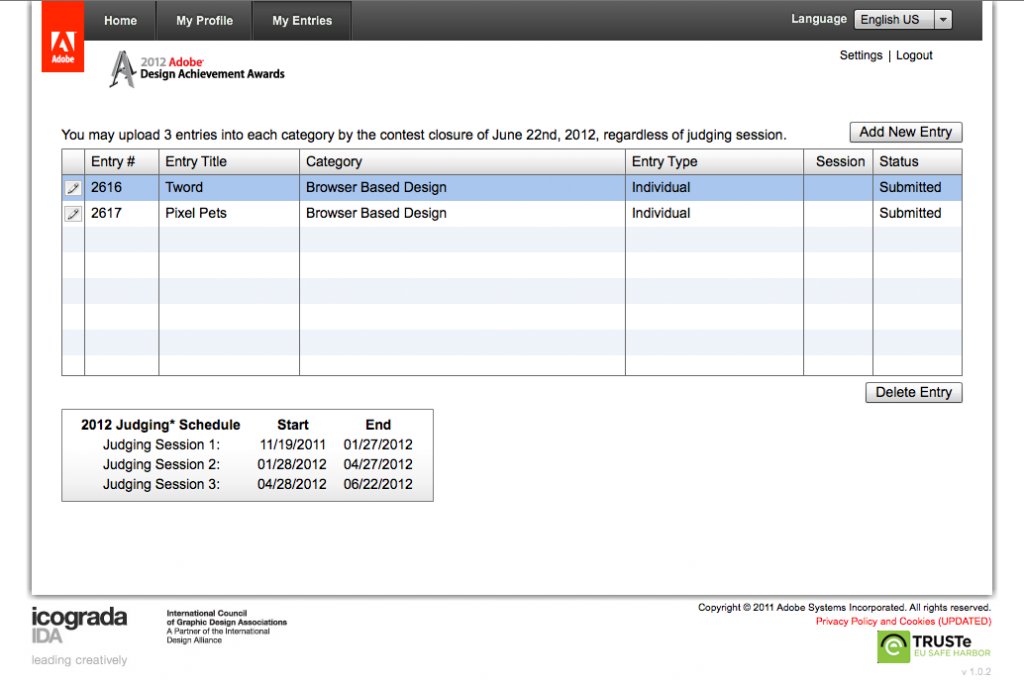 So far, I've entered Tword and Pixel Pets.  Two web-based projects. I'm also considering doing a bunch more.
I'm still getting used to this whole "entering award contests" thing, so I'm a bit nervous. But I think it'll be okay.
Tword
Tword is a class project for Typography 4 at the Kansas City Art Institute.
Tweets from a shared twitter account are displayed and animated as a typographical experiment in communication and context.
The twitter account is shared among my Graphic Design Department classmates at the Kansas City Art Institute, and is a record of things that have been overheard in the studio.
This experiement was built with PHP, jQuery, AJAX, HTML5, and CSS3.
Tword is a Twitter-based typography experiment demonstrating what happens to tweets when they are removed from their original context and re-contextualized in a new environment. Specific keywords are styled and animated to stand out from the rest of their parent tweets, giving the user a feeling of eavesdropping on a conversation.
Pixel Pets
erikagoering.com/tamagotchi-collection/
Pixel Pets was an Information Architecture collection project at the Kansas City Art Institute. Pets are organized and sorted by their characteristics, and presented in an informative website.
This is an information architecture project based on my personal collection of virtual pets. I organize and sort them in multiple ways, with infographs representing various characteristics of my collection.
This was an opportunity to see what was possible with the Adobe Muse beta (sadly, Muse isn't available as a product in the selection box).
I used Muse (beta) to build the site, Illustrator for all of the graphic elements (virtual pet illustrations, infographics, and the background tile and lace pattern), and Photoshop for some of the animations of the pets on the screens.
Filed under: KCAI, Learning, User Experience
Comments: Comments Off on ADAA Submissions
---