Over the weekend, I went to the movies with my hard-of-hearing (HoH) friend. Since the theater has changed their caption policy, we could no longer view open-captioned films. This change was actually more convenient for us, because it meant we were no longer limited to specific and rare showtimes. However, instead of simply buying a movie ticket for the open-captioned screening, we had to wait at the front desk to acquire a pair of special closed-captioned glasses (which my friend tells me she's had a problem with before). The glasses have to be programmed for each movie in the theater, so the glasses display the captions for the correct movie (because of this, we had to get to the theater a bit early to make sure it was all set up). However, captions don't appear for previews, so if there's a problem with the device, you don't notice until the movie has already started. In a previous visit to the movie theater, my friend experienced exactly this, and had to walk out to the front desk to complain and get it fixed while missing the first few minutes of her movie.
The point of this story is to bring to light the issue that the Deaf community faces; being an afterthought. Many companies and businesses adhere to ADA guidelines for people with obvious physical disabilities, but deaf and HoH people are often overlooked or their accommodations are half-assed. The thing with the movie caption glasses is such a clunky process, and reveals a fine line between convenience and annoyance. And it crosses that line all the time.
Deeply inspired by this experience, I later went full-force on my personas and visual/verbal audit. I felt like it needed to be done before I could move forward with designing a solution. The users of this project are those who feel marginalized or isolated on a regular basis.
To add to all this, here is my timeline for the next 10 weeks. I'll be adding more items as things start to progress and get more specific. My goal is to not only design an app (luckily, only for one size), but to also do a demo video or some sort of walkthrough video showcasing the app as well.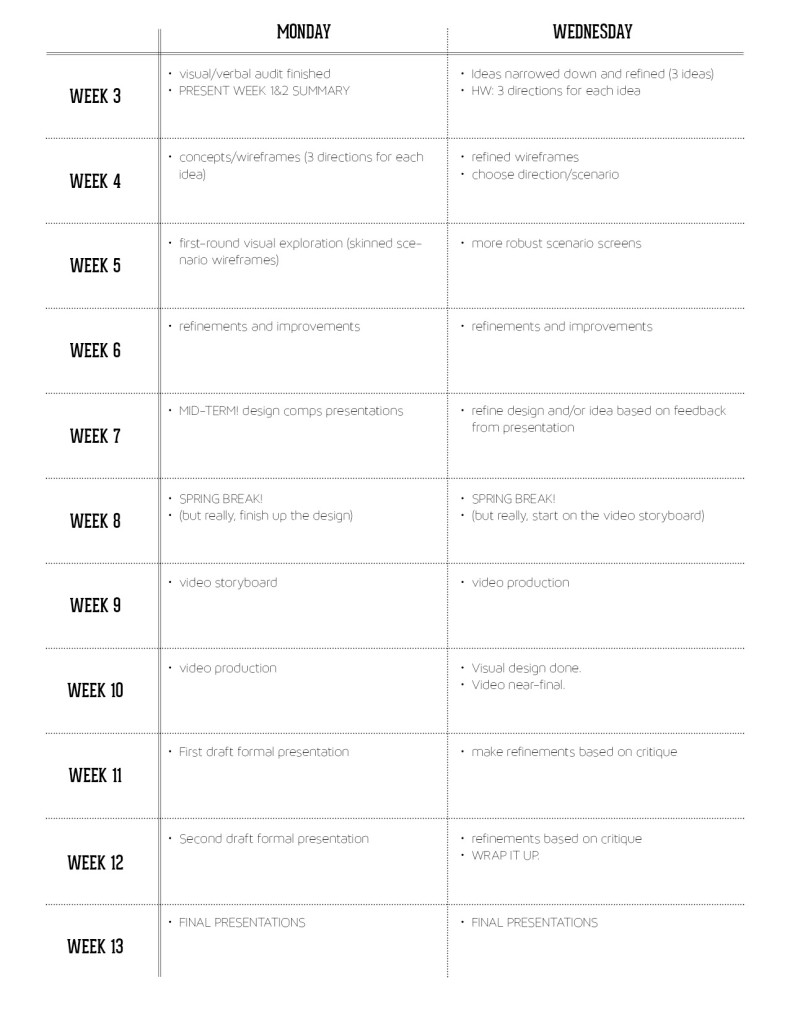 ---