Jimi Hendrix poster in progress
By Erika Goering,
Filed under: ImageMaking, KCAI
Comments: 1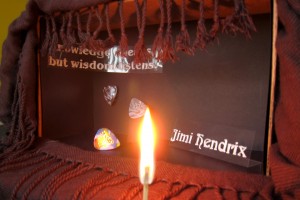 The quote says "Knowledge speaks, but wisdom listens."
I need to reshoot for a multitude of reasons:
transparencies are shiny (darn reflection!)
fire is hard to photograph
placement of the quote is hard to read with the curtain/scarf in the way.
maybe I need to add some more stuff? Like a microphone or something? Or a pill bottle?
---