Website Process: Organization, Hooray!
By Erika Goering,
Filed under: KCAI, Online Presence for the Artist
Comments: Comments Off on Website Process: Organization, Hooray!
I'm so excited! I'm learning so much.
For the first time ever, I'm learning how use PHP includes! It's pretty awesome to use them to their potential. Headers and footers are easier to deal with, page file sizes are a bit smaller, and everything's WAY more organized than anything I've ever done before. Yay!
Yes, there's PHP within PHP within PHP, but it's so organized and clean… I'm so proud of it. It's so easy to work with my code now. Super-organized.
I've also taken some advice on page construction and CSS organization. My CSS is easier to edit now that I know where everything is. Although it's not as streamlined and clean as my PHP. I'm still working on that.
…But overall, I've discovered that this class is really whatever you want it to be. I want to get better at what I know, and learn how to do things I never would've had the time to learn otherwise, and that's exactly what's happening. I'm getting into HTML5 and PHP, which I never really had an opportunity to do before. And I'm also using this opportunity to create a visual identity for myself, which I never really thought much about before.
Here's a screenshot of my new site so far: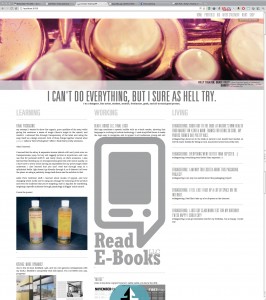 At times, it's been frustrating, but it's coming along pretty well. I'm feeling pretty optimistic.
---